PERSONAL SKIN CARE REGIMENS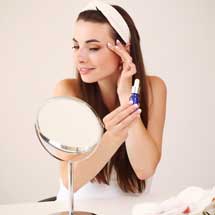 We offer personalized skin care regimens tailored to your individual skin care needs. We carry award winning product lines from ZO Skin Health.
It is important to have a consistent skin care routine in order to keep your skin healthy. Daily sun exposure, wind exposure, aging, pollutions, and LIFE can damage your skin. At Signature Med-Spa, our Plastic Surgeon and Esthetician will work closely with you to recommend the appropriate skin care routine for YOUR skin!
Whether your goal is to improve wrinkles, treat acne or acne scars, boost collagen production, or target brown spots, we have the right products for you.
With an appropriate skin care routine your skin will stay healthy, look more radiant and youthful, correct damage, and prevent future damage. Our goal is not only to boost collagen but to boost confidence too! Contact us to schedule and get started on your personal skin care regimens today!
We offer ONLINE SCHEDULING for our patients. Appointments can be requested for Botox, Filler, and aesthetic med spa services.  We also offer VIRTUAL ZO Skincare Regimen Evaluation!
Secure your spot today as our appointment slots are filling up fast!