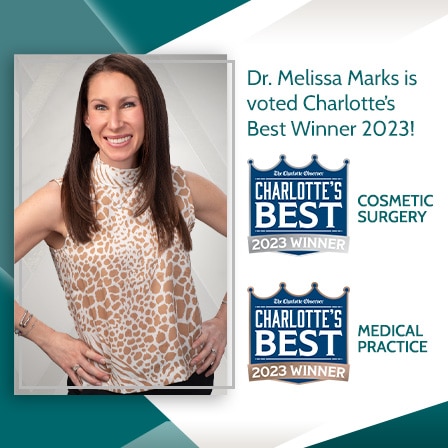 DR. MELISSA MARKS IN THE NEWS
Stay up-to-date on the latest news about Dr. Melissa Marks.
THE CHARLOTTE OBSERVER'S "BEST" OF CHARLOTTE
Dr. Marks wins Silver and Bronze Awards
Dr. Melissa Marks, the esteemed founder of Signature Plastic & Reconstructive Surgery, has swiftly captured the attention and admiration of Charlotte, North Carolina, since her recent move from Palm Beach, Florida.
Opening her doors in May 2023, Dr. Marks has already made a remarkable impact on the community, an achievement underscored by her impressive wins in The Charlotte Observer's "Best" of Charlotte. Her dedication to excellence and patient care earned her the coveted silver award in Best Cosmetic Surgery and the bronze in Best Medical Practice categories.
Such recognition is a testament to her exceptional skills and the immediate rapport she has built with her patients, illustrating that Dr. Marks is not only a top-tier surgeon but also a cherished addition to the Charlotte medical community.
Silver Award in Best Cosmetic Surgery
Bronze Award in Best Medical Practice
View Charlotte's Best Digital Magazine (SPRS on pages 31 & 36)
WPBF25 NEWS – BREAST IMPLANT RECALL
Dr. Melissa Marks discusses this important topic below.
Allergan announced a worldwide recall of implants with a textured surface.
Medical device maker Allergan Inc. is recalling a type of breast implant linked to a rare form of cancer.
The company Wednesday announced a worldwide recall of implants with a textured surface.
The U.S. Food and Drug Administration said it called for the removal after new information showed Allergan's Biocell breast implants account for a disproportionate share of rare lymphoma cases. The move follows similar bans by regulators in France, Australia and Canada.
PLASTIC SURGERY OF THE BREAST & BODY – MELISSA MARKS, D.O., F.A.C.O.S.
Dr. Melissa Marks is a Fellowship Trained Plastic Surgeon and also a Board-Certified General Surgeon. After completing Medical School in the Top 5% of her class, she went on to complete a Full 5-Year General Surgery Residency and a Full 3-Year Total Body Plastic Surgery Fellowship. Dr. Marks has lectured on Breast Enhancement Surgery and Breast Implant Illness at Two National Cosmetic Surgery Conferences and has also been published in The American Journal of Cosmetic Surgery.